I think you'll agree with me when I say that most people believe that EMAIL IS DEAD… or email marketing is one of the tools of the past. A natural assumption, considering that Email had been getting popular since the early 1990s.
Is it really dead, though?
Well, it turns out that there are a lot of facts, figures, and data opposing this idea. More importantly, buying into this idea can drastically hurt your potential conversions, brand awareness as well as relationships with your customers.
And in this post, my goal is to bring all the necessary facts to light and introduce the power that email still holds. Obviously, over time, email has evolved tremendously, but more on that later.
Clearing the confusion
First things first. What is one of the factors behind the negative assumptions associated with email marketing? A new tool made available to marketers that seem to have a lot of positive stats in its favor. What is the tool I'm describing?
Chatbots.
In January 2017, Facebook launched Messenger Marketing as a tool for advertisers to use direct messages and chatbots to perform the way most marketers use email. The stats for marketing using messenger or chatbots seem extremely positive, especially after the launch of Manychat in September 2017.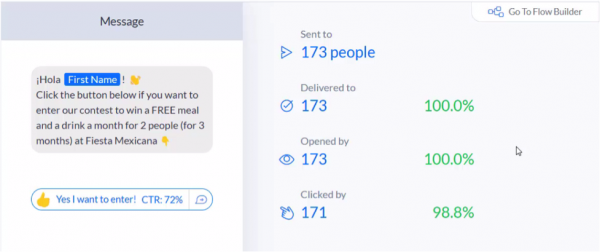 On average, 88% open rate and 56% click-through rate!
While the average for email marketing is a 17.80% open rate and 2.5% click-through rate.
Yes, those are the kind of metrics that are achievable using Chatbots. It is almost like email marketing using Facebook messenger. You can read more about creating successful Manychat Campaigns here.
Then why use email marketing? It seems outdated and ineffective!
Well, as of May 2020, there are over 3.930 billion email users. This figure is predicted to reach 4.371 billion by 2023, which is a yearly growth of 3% – Radicati Group (2019)
At its most basic level, email is designed to get information across quickly and effectively. It still does this incredibly well, fact being that more than 3.3 billion legitimate emails are sent every hour, and over 188 billion emails are sent every day!
Some more supporting studies indicate that 83% of consumers say email is one of their preferred methods of brand communication, with Facebook as far second with 38%, and postal mail at 27%. Email Addiction study, EmailMonday (2018)
86% of professionals prefer to use email when communicating for business purposes. (HubSpot, 2017)
72% of consumers say that email is their favored conduit of communication with companies they do business with. 61% say they like to receive promotional emails weekly and 28% want them even more frequently. – MarketingSherpa
Clearly, email is here to stay.
Here's why should you integrate email marketing into your Digital Marketing Strategy in 2020:
Email can perform as a powerful tool for customer engagement.
The level of personalization that is possible through email is incredible. A simple tweak like mentioning the recipient's name in the subject line can not only boost open rates drastically but even provides the customer with a more valued personal experience. In 2020, most communication is preferred to be conversational, not broadcasts.
The fun fact though, is that most companies do not meet the standards of basic email marketing. This is obviously a result of an underestimation of the power of the platform.
Email is dynamic and mobile-friendly.
Almost every report on email open rates concludes that mobile is responsible for at least 60% of all opens. Google has stated that mobile users check their email 3x more.
In a recent survey conducted by Leanplum, of 1,000 consumers measuring their sentiment toward mobile brand engagement, less than 9% said they never open emails from companies. Email is mobile users' preferred type of notification (cited by 46% of respondents); it's strongly preferred over push notifications (15%) and in-app messaging (20%).
Email marketing has been one of the greatest revenue sources for companies.
59% of marketers cite email as their number one source of ROI. In an article by Oberlo, they stated that, for every $1 spent, email marketing generates $32 in ROI.
According to Business2Community.com, personalized emails can produce a transaction rate of 6x higher than those of other marketing emails.
Evidently, the smart and strategic use of email marketing still strongly holds its place in the digital marketing ecosystem.
For most companies, email lists are the most crucial asset in their marketing efforts. It allows them to get in touch with the customer at almost no cost once acquired. This form of remarketing can greatly boost the profitability of a company as long as the right email marketing strategies are deployed.
The Takeaway
Email Marketing is an incredible channel of communication for brands of all industries and sizes, and is not going anywhere, any time soon. It must not be overlooked or underestimated by any means.
Media hype often leads to "email is dead" headlines, followed by praise for whichever new technology killed email this time. But despite the countless innovations in communication technology, Email marketing will constantly stand the test of time and evolve to adapt to the demands of the future.
Leave your thoughts in the comments, or email me at gabriel@styxmedia.co